APCC Board 2020
Priya Mahajan

PRESIDENT
Head of Asia Pacific Public Policy & Regulatory Counsel – Verizon Communications
Ms. Mahajan is the Head of Asia Pacific Public Policy & Regulatory Counsel where she is responsible for strategic-level Regulatory and Policy advice regarding Verizon's business operations in Asia Pacific. Priya has previously served as Chief Counsel for Verizon-India where she was responsible for providing legal advice and guidance on regulatory, policy & commercial matters pertaining to India operations.
Priya holds extensive experience in providing regulatory advice on ICT issues such as converged networks, platforms, digital services delivery models, outsourcing, Data Privacy & ICT Licensing issues. In her policy role, she closely monitors the ICT industry public policy developments and works with policy makers on a range of issues viz Simplification of Telecom's Regulatory frameworks, Privacy, Data protection, Cyber-security, Digital trade developments to ensure sustainable outcome for the business. Priya is also a periodic speaker on next gen technology/policy issues.
Priya is the co-chair of AMCHAM Singapore Cyber Security Subcommittee responsible for advocacy, policy & programming activities of the council. She is a founding member of the Society of Women Lawyers (SoWL), a mentoring and professional platform for women lawyers in India. Priya is a qualified attorney & Company Secretary. She is also an IAPP Certified Information Privacy professional Asia (CIPP-A), IAPP Singapore Chapter Co- Chair & holds an Accelerated management certification by the Indian School of Business, Hyderabad.
Simon Smith

VICE PRESIDENT
Senior Regulatory Counsel – Pacnet, Telstra
Simon started his career at Cable and Wireless where he worked on pricing strategy for the Caribbean. He subsequently was made responsible for Regulatory Affairs and worked extensively with Governments on the various policy issues concerning the Americas at various Government fora, including CITEL, the telecommunications arm of the Organization of American States.
He subsequently joined ICO, a Global Mobile Satellite company where he was responsible for regulatory affairs and business development for Europe. Whilst at ICO he was also was involved in GMPCS issues at the ITU as part of the British delegation.
In 2006 Simon moved to Singapore to become Senior Regulatory Manager for Pacific Internet. He has remained in the same position in Pacnet, the new entity created with the merger of Pacific Internet and Asia Netcom.
Patrick Chu

TREASURER
Regional Compliance & Regulatory Counsel – Orange Business Services
Mr Patrick CHU is the Regional Compliance & Regulatory Counsel responsible for managing all the IT compliance, personal data privacy, cybersecurity and telecom regulatory issues of Orange Business Services in Asia Pacific and Middle East region. Patrick has been working on the IT and telecom industry serving Hong Kong Telecom, BT, Yahoo and Facebook during his 20 over years working experience to address those government public policy, market access and licensing issues with regulatory bodies.
He originally came from Hong Kong and had spent 2 years in Beijing during China access to WTO period to assess the market opportunity for foreign telecom operators upon China's access to WTO. In 2013, he relocated to Singapore to focus more on the ASEAN regulatory and compliance issues for Orange and recently extended the coverage to include Middle East region where the regulatory challenges are similar to Asia Pacific.
Tanya Tang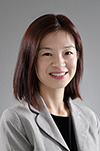 SECRETARY
Partner (Chief Economic and Policy Advisor), Rajah & Tann Singapore LLP
Tanya joined Rajah & Tann's Competition and TMT practices as its Chief Economic and Policy Advisor, giving the practices the unique capability of providing fully integrated legal and economic advice to clients. Tanya has extensive competition and regulatory experience, having worked in the policy and competition team at the then-Infocomm Development Authority of Singapore (IDA), as well as the then-Competition Commission of Singapore (CCS). At IDA, Tanya's key responsibilities included implementing the Telecom and Postal Competition Codes, such as assessing M&A applications and investigating alleged anti-competitive practices. She also led key policy and regulatory reviews, such as reviews of the Telecom Competition Code and guidelines, as well as the Quality of Service frameworks for telecom services. At CCS, Tanya was responsible for conducting economic analysis for investigation of competition cases.
Since joining Rajah & Tann, Tanya has been instrumental in lending her economic and regulatory capabilities to advise extensively on both general and sectoral competition law, as well as regulatory issues, covering the telecoms, media and energy sectors. Other than assisting private sector clients, Tanya has also provided counsel to government agencies in policy-making, from her involvement in the Brunei Telco-Media Convergence laws to building the telecoms-related capabilities of Cambodia's Ministry of Posts and Telecommunications.
Tanya has been recognised annually since 2016 as a leading competition economist in the international Who's Who Legal: Competition, and as a consulting expert in the International Who's Who Legal Consulting Experts: Economic Consulting – Competition Economists.